Min. Bet:
Max. Bet:
Max. Win:
Paylines:
Reels:
Jackpot:
8th Wonder Slot
8th Wonder by Realistic Games
The 7 ancient or natural wonders of the world attained their title largely for their ability to dazzle, excite, and amaze. The same can be said when you spin the reels of 8th Wonder online video slot as shimmering gems and shining jewels can create many chances to win real money. Through the retro style reels is a dark background with a series of crimson red gems. High to medium value symbols include sparkling 8s made from gemstones, wads of cash, and gold bricks. Lower value symbols are composed of heart gems, blue gems, silver diamonds, and purple jewels. While 8th Wonder online has a nostalgic and retro feel of a classic slot machine, the bright and 3D graphics convey a modernized quality. The simplistic style is not sparse or lacking but makes gameplay hassle-free, so you focus only on spins and wins. For example, the absence of background music accentuates each spin with just 3 chimes as each reel stops and the exciting jingle for any win stands out much more. You can bejewel yourself at GIANT Casino in 8th Wonder slot game where many opportunities for generous payouts will have you calling this game a real gem.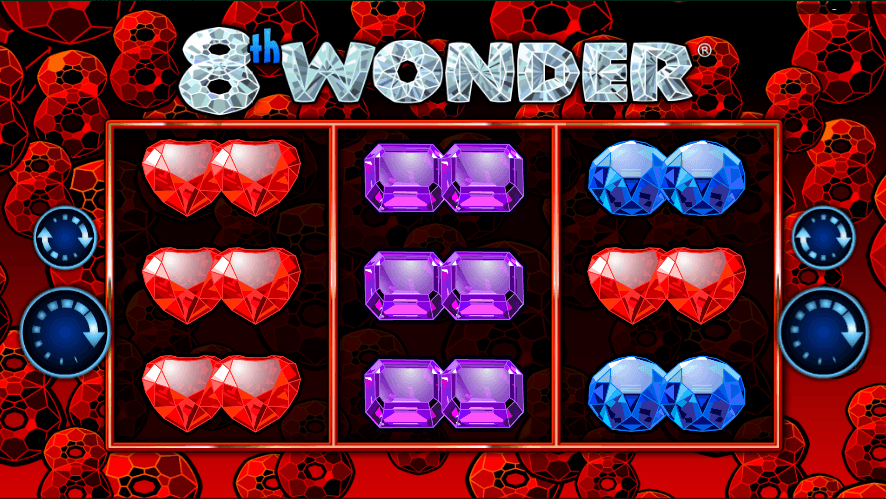 8th Wonder Slot Game Features
The features and gameplay itself of 8th Wonder online slot are very simple, straightforward, and fast. You are likely to notice first how the basic, classic style of 3 reels, 3 wager rows, and 5 paylines, does not have any excessive frills. It can however create many exciting thrills. This is especially the case on a maximum bet if 3 of the lucky 8s land on the reels. You will then be awarded an amazing 32,000 coins. This is followed by a jump down to 3 of the wads of cash or 3 gold bricks awarding an equally generous 8,000 coins on a max bet.

Speaking of betting, 8th Wonder slot has a very flexible range despite the retro style.

You can wager between 25p and £200. If all the bright dazzling of gems makes you want to grab a pair of sunglasses, simply set the AutoPlay for 10 to 100 uninterrupted spins. With only 3 reels, gameplay has a faster feel. You can carry a wonder with you anywhere as 8th Wonder online is beautifully designed as a mobile slot as well as on tablet and desktop.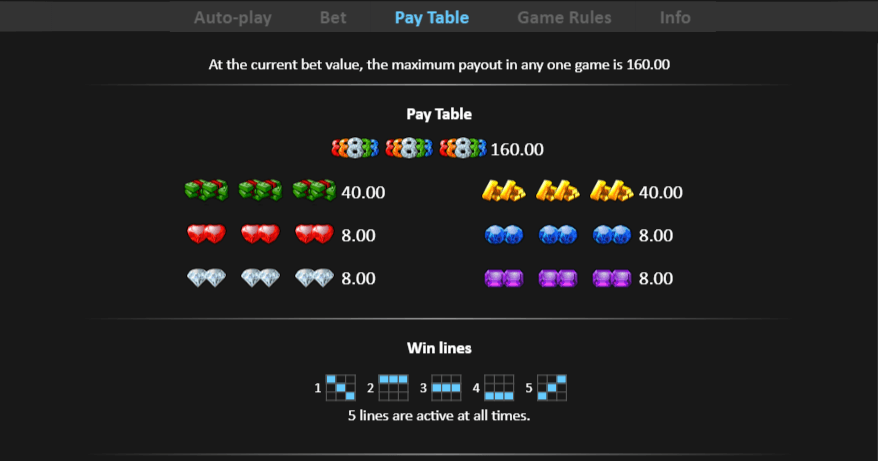 8th Wonder Slot Bonus Rounds
Since part of the appeal in 8th Wonder slot is its simplistic retro style, there are no elaborate bonuses or free spins as with other online slots. However, there is an exciting 'Full House Bonus' whereby you will double your award if all matching symbols cover the entire 9 spots on the reels. At max bet, this translates to an exciting 64,000 coin award if the reels are filled with lucky 8s. Now that is a real wonder to behold and you may even want to snap a selfie picture to cement the memory.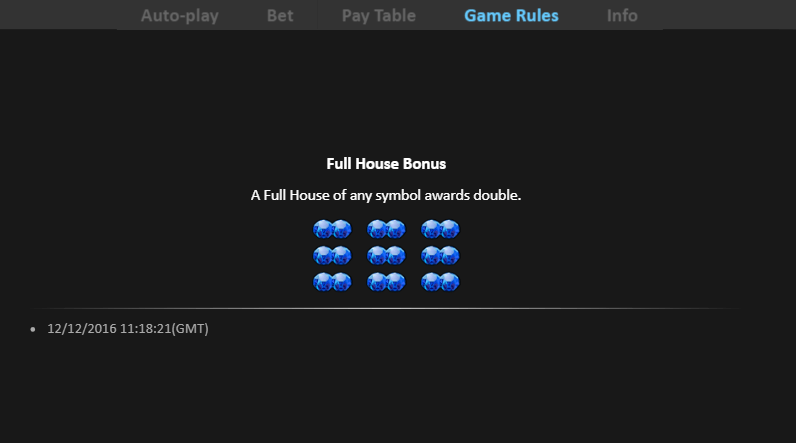 Game Developer
Founded in 2002, Realistic Games has created many 'gems' in the online casino Industry such as 8th Wonder online. Experience and skill have allowed them to create "premium quality electronic gaming content". Players of online casino UK will recognize Realistic Games titles for their ability to blend retro with a modern feel as well as offering impressive visuals, straightforward gameplay, and exciting generous chances for major payouts. At GIANTCasino.com, you can enjoy the slot 'Black Ice' and should stay tuned for other innovative creations from Realistic Games such as 'Slot it in', 'Time is money', 'Hot Cross Bunnies', and 'Snakes and Ladders'.
8th Wonder Game RTP
With the potential for a major jackpot on a maximum bet, 8th Wonder online slot has a theoretical RTP estimated at 95.34%.